27.08. – 24.12.2022
Talk with Christoph Peters, Writer, and Julia Ziegler on 29 October 2022 at 5 pm.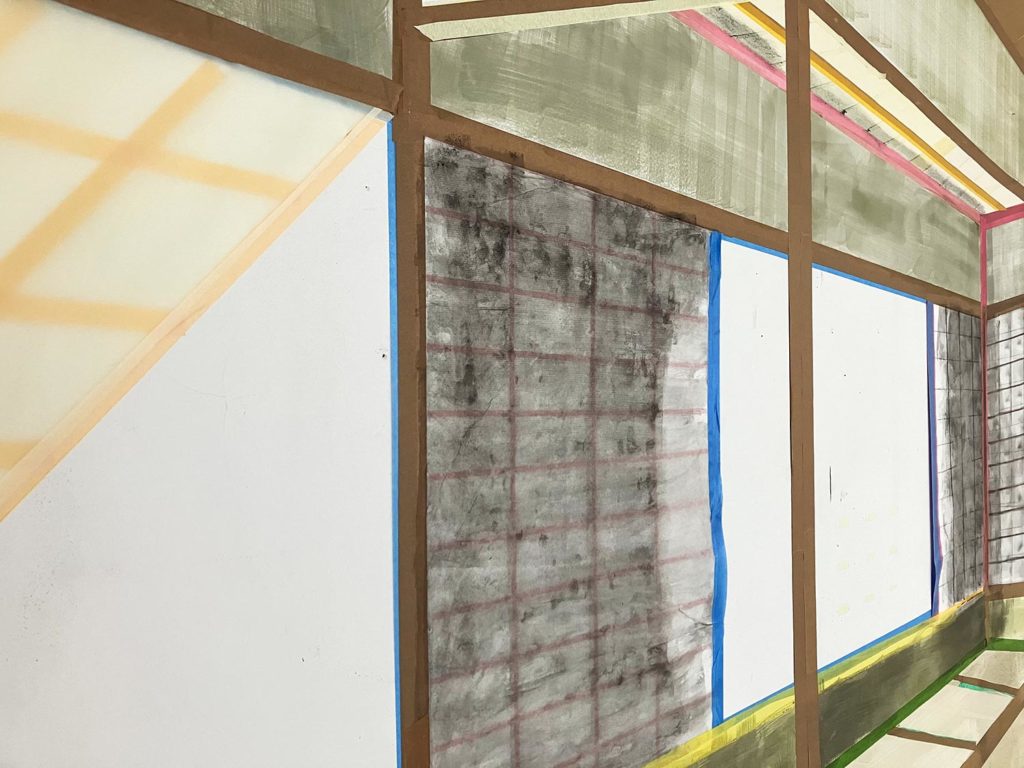 Julia Ziegler, born in Frankfurt/M in 1963, studied painting at the Berlin University of the Arts and graduated there as a master student after a study visit to Norway. She is a co-founder of the Berlin gallery oqbo – raum für wort bild und ton.
In her work, Julia Ziegler addresses the relationship between spatial experience and visual experience, between material presence and illusion, and thus also investigates the relationship between sign and form. Her conceptual approach is open to different media, techniques and approaches: Drawing, painting and temporary installation, studio and site-specific work go hand in hand. Ziegler restages visual moments of perception and concentrates them in abstraction. In doing so, she focuses on seeing: as a body-based activity and yet detached from the body, as a potential and as a process.
For the Røyal Bakery and its art wall in the sales room, Julia Ziegler illusionarily opens the view into another room, the tea room of an imperial villa in Kyoto. She makes the places merge, as if you could walk over, sit down on the tatamis and drink matcha tea, while actually sitting at the window of the bakery enjoying a cup of tea. Julia Ziegler chose a word as the title of her visual intervention that is itself a testimony to East-West encounters: with "tirumu", the English "tearoom" has become native to Japanese.
onetoone – Art at the Røyal Bakery is a project by Kati Gausmann.