14.01. – 29.04.2023
Opening on Saturday, January 14, 5-7 pm
Talk with Ulrike Brand, musician, and Juliane Laitzsch on Februar 25 at 5 pm.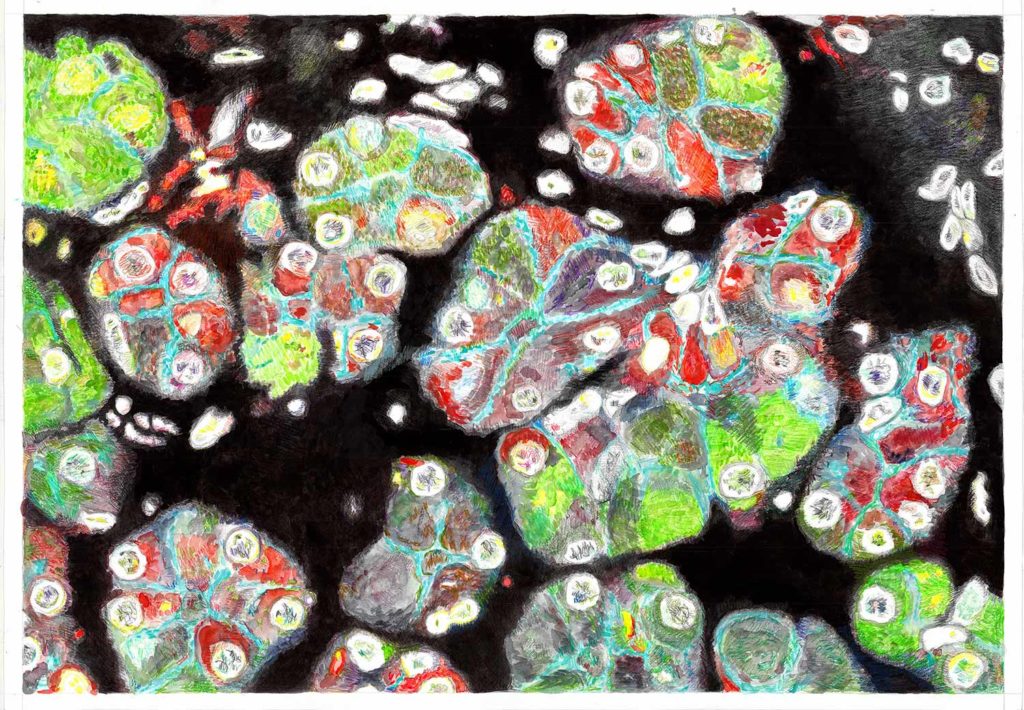 Juliane Laitzsch is a draughtswoman who deals with open, unfinished processes of seeing, thinking and producing. For Backstube, she has developed a series of drawings dealing with the fact that bread becomes sweet when chewed.
In her drawings, Juliane Laitzsch combines precise observation, documentation and a way of dealing with what she finds that follows the momentum of drawing. The starting point for the work "Chewing Bread" is a photograph of a salivary gland taken by American scientists to research the production of alpha-amylase and other enzymes. With large-format watercolours that enlarge the photograph in four steps, Laitzsch abandons herself to a working process in which the rhythms of chewing are also echoed, as well as the childhood fascination with the whimsical sweetness of bread and the irritating, slightly disgusting circumstance that all the beautiful things: breads, apples, etc., are ground into pulp.
How actually – with what resonances, feedbacks and rhythms – are we connected to the world?
onetoone – Art at the Røyal Bakery is a project by Kati Gausmann.