HAUS am KLEISTPARK 2021 Art Award
I am delighted to have been nominated for the HAUS am KLEISTPARK 2021 Art Award! The exhibition "Deceleration" with all nominated artists will be on view at the Haus am Kleistpark from 11 June – 15 August 2021.
COURAGE POEM, Edition, 2001/2021
This year, not knowing what is coming remains a challenge. I have therefore reissued my 'courage poem' piece from the series 'texts for use'.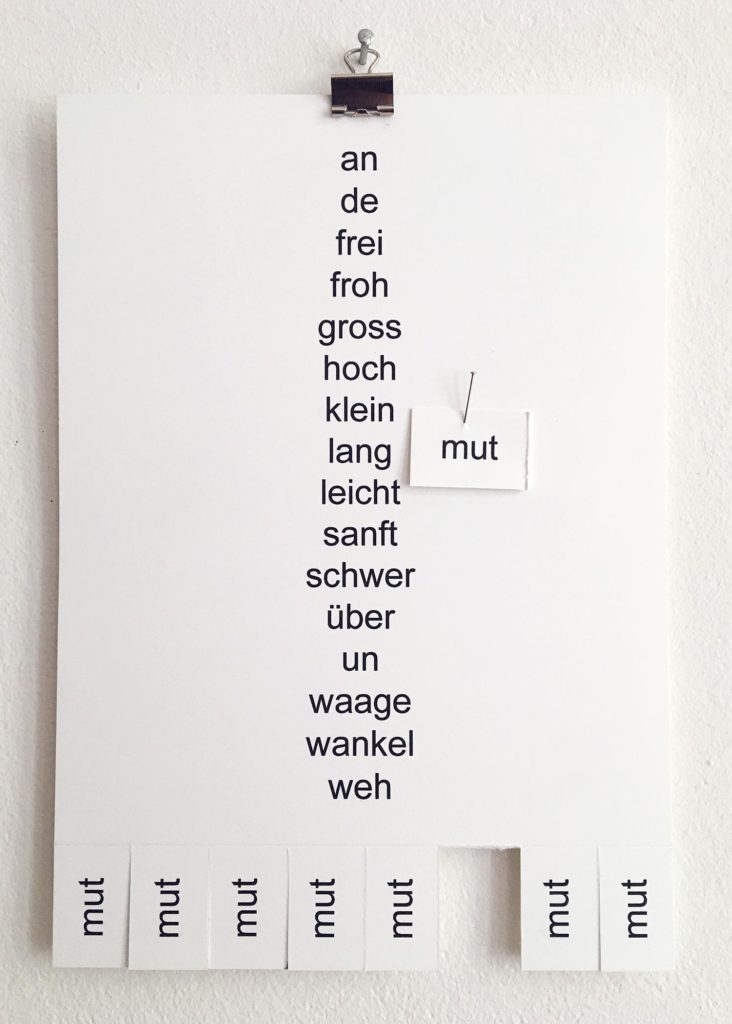 DIN A5, with binder clip, nail, and pin in sleeve, unlimited edition. 25 euro incl. 7% VAT and P&P within Europe. If interested, please send an email to mail@kati-gausmann.de
Project Scholarship Art Communication 2021 at DA Kunsthaus Gravenhorst Monastery
My project 'Portraits of Days and Places' was selected for a project grant. The Project's Instagram channel here; a video (german) about the project on YouTube here
Residency at SÍM in Reykjavik, Iceland in 2021
The Icelandic artists association SÍM has invited me for a one-month working stay. I will be exhibiting on site with Scottish artist Miranda Blennerhassett.
onetoone – art at the Røyal Bakery
New exhibition in my exhibition and mediation project onetoone (16) 'Karat' by beate maria wörz from 08.05. – to 21.08.2021. more
Artist Collective msk7
Our art-in-architecture installation 'Kulisse' is expected to be finished in 2021. Our project 'RESIDENZPFLICHT' began in 2019 and will enter its second round in April 2022. more
oqbo paperfile
I am pleased to be represented in Berlin since autumn 2019 with works in the paperfile of 'oqbo – raum für bild wort ton', Berlin.