08.05. – 21.08. 2021
On Saturday, August 14, 2021 at 5 pm, the artist Beate Terfloth will lead a conversation with beate maria wörz.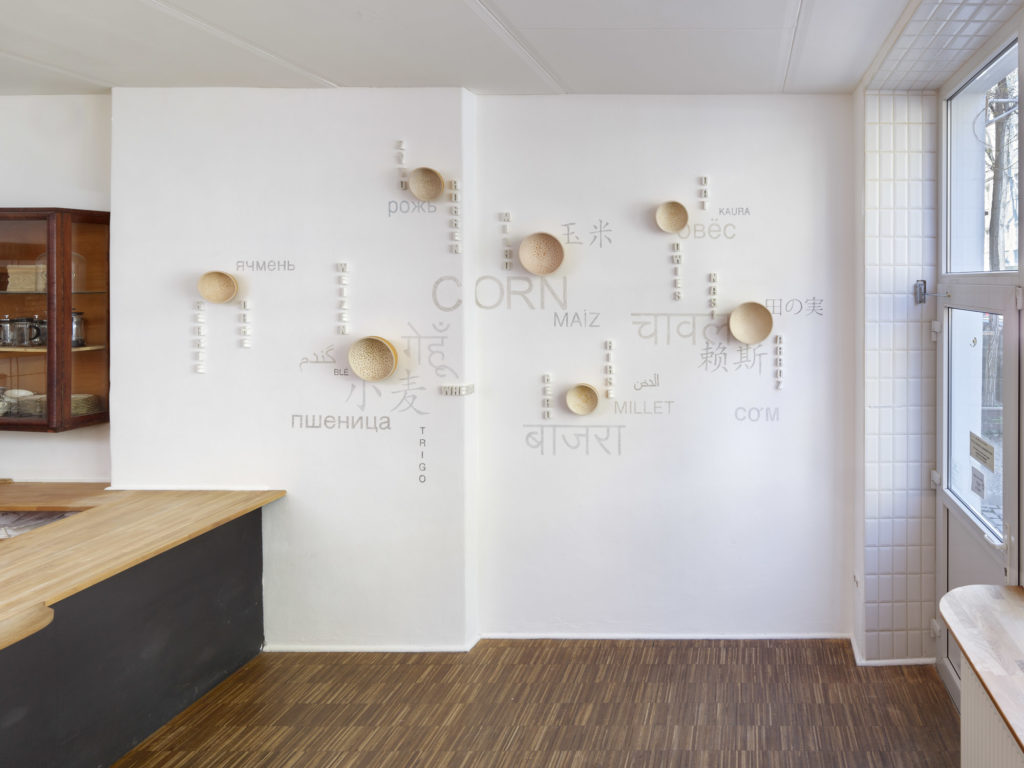 beate maria wörz is a conceptual sculptor and draftswoman. For her site specific wall installation 'Karat' at the Røyal Bakery, she has explored the meaning of grain as the most important staple food in the different regions of the world.
Based on the seven basic grains of wheat, rice, corn, millet, barley, oats and rye, wörz has imprinted seven different clay bowls, each with a different grain pattern. The golden outer surface of the bowls, reflecting on the wall, recalls a time going back to ancient Egypt, when grain was so precious that it served as a means of payment: 1 carat was originally equivalent to the weight of one seed of the carob tree and in the Middle Ages corresponded to the weight of 3 barley grains or 4 wheat grains.
The seven grain names, formed in letters made of cast concrete and as writing directly on the wall, bring into play in different languages the diversity of the regions of the world where grain as the main food secures the foundations of human existence. Concrete as a material also addresses the increasing destruction of landscape and soils through soil sealing. Together with the subtly radiant shells, the different levels of lettering form an impressive visual ensemble on the foundations of our nutrition worldwide.
Art Outdoor-Tip from Tip Berlin
onetoone – Art at the Røyal Bakery is a project by Kati Gausmann.