Residency and Exhibition in Reykjavik, Iceland in 2021
In September I am working as an artist in residence of the Icelandic artists' association SÍM in Iceland. From 16 to 19 September I will be exhibiting together with the Scottish artist Miranda Blennerhassett at the project space FLÆÐI in Reykjavik.
Impressions of my work on site and the exhibition can be found here.
Pink Panik at Kunstverein Neukölln, Berlin
14.08. – 26.09.2021
Curated by Barbara Duisberg and Rebekka Liebmann
With Ursula Antesberger, Irene Anton, Martina Becker, Ophelia Beckmann, Christoph Beer, Anne Brannys, Susanne Britz, Michaele Brüll, Jerome Chazeix, Ulrike Dornis, Thilo Droste, Barbara Duisberg, Ellinor Euler, Catherine Evans, Dzahid Filipovic, Frederik Foert, Annett Frontzek, Kati Gausmann, Kiki Gebauer, Nathalie Giraud, Marco Goldenstein, Mariel Gottwick, Elke Graalfs, Friederike Hammann, Jens Hanke, Wolfgang Hille, Peter Hock, Esther Horn, Nikos Kalaitzis. Henning Kappenberg, Magda Kaufmann, Werner Keller, Jakob Kirchheim, Gwendolyn Kerber, Kristin Kolb, Gabriele Künne, Friederike Linssen, Petra Lottje, Ralf Lücke, Gerhard Mantz, Carmen McPherson, Regina Neuwald, Aneh Ondare, Zeynep Ozkazanc, Deborah S. Phillips, Jens Reulecke, Yvonne Roeb, Tatiana Sophia Sainz, Gabriele Schade-Hasenberg, Nadja Schöllhammer, Kathrin Sohn, Elisabeth Sonneck, Hans-Peter Stark, Tine Steen, Birgit Szepanski, Petra Tödter, Pascale Veilleine, Claudia von Funcke, Viola Wandrey, Sigrid Weise, Bettina Weiß, Hans Wesker, Undine Weyers, beate maria wörz, Barbara Wrede
Project Scholarship Art Communication 2021 at DA Kunsthaus Gravenhorst Monastery
In 2021, I develop my project 'Portraits of Days and Places' at the former cloister Gravenhorst in the context of DA, Kunsthaus Gravenhorst project grant. The Project's Instagram channel here; a video (german) about the project on YouTube here
onetoone – art at the Røyal Bakery
New exhibition in my exhibition and mediation project onetoone (17) 'Überseegebiet – Siedlung 6N127SE' by Christine Niehoff from 28.08. – to 24.12.2021. more
COURAGE POEM, Edition, 2001/2021
This year, not knowing what is coming remains a challenge. I have therefore reissued my 'courage poem' piece from the series 'texts for use'.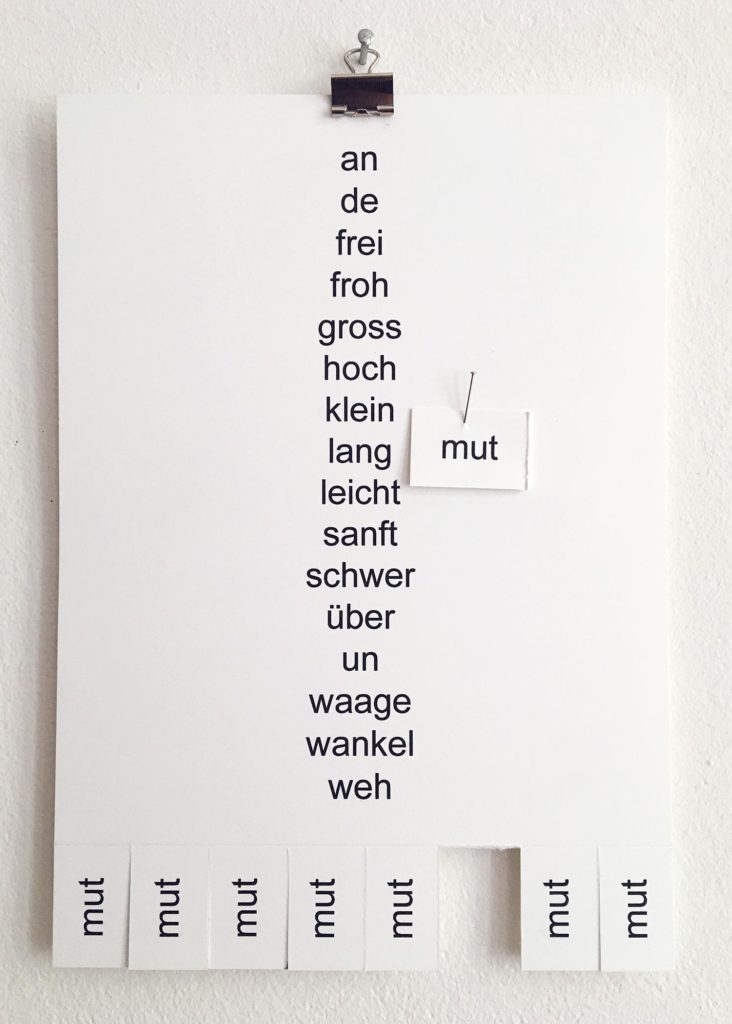 DIN A5, with binder clip, nail, and pin in sleeve, unlimited edition. 25 euro incl. 7% VAT and P&P within Europe. If interested, please send an email to mail@kati-gausmann.de
Artist Collective msk7
Our art-in-architecture installation 'Kulisse' is expected to be finished in 2021. Our project 'RESIDENZPFLICHT' began in 2019 and will enter its second round in April 2022. more
oqbo paperfile
I am pleased to be represented in Berlin since autumn 2019 with works in the paperfile of 'oqbo – raum für bild wort ton', Berlin.